The Body by God Rebuild the Temple 40-Day Challenge!
To register please call our office at 937-748-4533
In this program you'll learn:
Life Management:
The way you manage your time is the foundation for how you manage your life. Don't you really want more productivity in your life? More quality time with family and friends? The 40-Day Challenge provides eye-opening tools to help you manage your time more effectively.
Peace Management:
Managing stress is like managing poverty; you can't do it. You manage your resources, not your lack of them. In the same way you manage your resources, you can manage your peace. The 40-Day Challenge provides you with specific guidelines to achieve personal peace.
Nutrition Essentials:
Eat to live; don't live to eat: What does it take to thrive, not simply survive? We all know we should eat better, and that means consuming more fruits and veggies, but many seem unable to implement this in daily living. The 40-Day Challenge provides simple and practical steps anyone can take to eat healthy on a daily basis.
Body Conditioning:
It does not take hours in the gym to get fit. The 40-Day Challenge will show you the three key components to get fit and flexible. Professional athletes are not the only ones who need to work out on a daily basis to stay at the top of their game. Body conditioning is just as important for a parent, business person, laborer – or anyone! Just as the athlete's livelihood depends on a conditioned body, your daily productivity depends upon the fitness of your body.
While many people today are looking for quick fixes, there are no drive-through breakthroughs! The 40-Day Challenge is designed to changes habits – for long-term life enrichment. One percent a day for 40 days is a plan you can LIVE with!
The life you want is within your reach! Make a commitment to God, to yourself and to those you love to attend this life-changing workshop which will radically enhance your life! Bring loved ones with you! Take the Body by God 40-Day Challenge and experience for yourself an enriched quality of life…
mind, body and spirit – 1% daily for 40 days.
Challenge yourself! Call (937) 748-4533 today to register!
---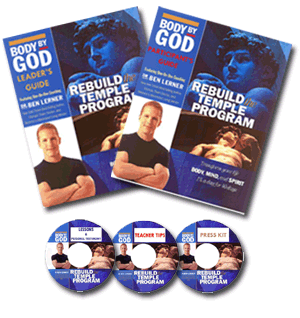 The Body By God 40 Day Challenge is an exciting new program created by the best selling author Dr. Ben Lerner, and is being offered by Dr. Brickner. It is a life-changing program that will transform your life-body, mind, and spirit in daily one percent increments for 40 days. This program will enact steady, positive, effective, productive, and more permanent change God's way.
In this program participants will create:
A personalized nutrition plan, not a fad diet plan
A fitness program that will get you in the shape of your life in only minutes a day
A weekly stress management system that contains time with God, relationship building, and regular work on reprogramming your outlook
A time management guide that shows how to find the time for a new program while at the same time increasing the number of available hours a week to do the things one loves to do
For additional information, to find out about the next class or to inquire about how to bring this program to your group or organization call the office at (937) 748-4533 or e-mail Dr. Brickner at drbrickner@drbrickner.com.
---